Career Growth
Working to Create a Fun Work Environment for Everyone
For the first 10 years after joining ID, I worked in system development. After a while, I was transferred to in-house system development and management. Currently, I am working as an in-house engineer in the Project Management & Information Systems Department. Contributing to "Work Process Reform" policies, our department works to increase system performance and make ID an easier place to work for everyone.

Managing the in-house system is an important job that improves the work efficiency and productivity of the company. I find all kinds of different ways to make it easier for others to work at ID. I find new ways to digitalize things and feel very happy when I complete a system I've been working really hard on. Recently I've worked on solving my own department issues through development, but I plan to focus more on cooperating with other departments from here on out.
Childcare Compatibility
The Tele-Commute System in Place Kept Me Motivated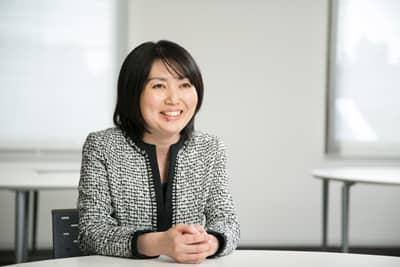 Having a way to work from home made things easier when it came to spending time with my children, specifically during times when they got sick. I felt that it was going to be difficult to balance both my work life and my time with my children. If I knew when I may be out of work, I could schedule that in advance, but kids suddenly get sick and I may have to call out of work last minute.

I knew ID had a system for tele-commuting, so it wouldn't turn out to be an issue. When my kids were younger I utilized this system and was able to balance my work and private life. These days I'm still tele-commuting every now and then. In these times of population decline, it is very important to provide a comfortable environment for working mothers. Because ID understood my needs, it pushed me to work harder both on and off the clock, and gave me a lot of motivation. This kind of win-win environment provides a mutual benefit between company and employee in this important age of raising children.
About ID
A Company That Supports Your Goals
ID will often support employees who voice the type of work they want to do. In the past, I always dreamed of being a teacher, and when I joined ID, I also requested to have the chance to be an in-house lecturer. After I explained in detail, I was given a chance to take part in company training. I learned a lot and had fun coaching young employees while coming up with ways that could improve our training curriculum. I want to continue improving our curriculum, and eventually conduct training courses outside of the company as well.

Another trait about ID is that it is a very diligent company. We get a variety of requests from customers, and some are quite difficult to deal with circumstantially. We take the requests that other companies can't in a way that's smart, rough and tumble, and headstrong. Because we conduct business like this, we receive great reviews and build on our trust relations with our customers.
To Future ID Employees
Proactively Take on New Challenges!
When I'm doing my job, I often feel that we will need to tackle new areas in our industry. What we need are people who are willing to discover and learn about these new areas. The key is to always work with ambition and never be fully satisfied with the present. If you think about things like "How can I make a good proposal?" or "How can I increase efficiency?" we want to work with you and proactively improve our business.

Not only thinking about yourself but also thinking about the customer, the company, and society as a whole can lead to a happier workplace. We can help change society for the better through the work we do here. I look forward to working with all of you!