Career Growth
My Greatest Joy Is the Growth of My Team and High Evaluation that Comes with It
I joined this company mid-career in 2015. In the division to which I was first assigned, I mainly did performance tuning of databases as a system engineer. Then I was engaged in sales-related systems for a life insurance company. By a request from the client, I launched a team for troubleshooting testing and design issues. I became a sub-group leader and was promoted to a full-on leader in the second year. What lead to my assignment as the group leader was the approval of a new project. The leader position requires communication skills with clients, as well as sales skills, which gives me a higher sense of satisfaction. So, I did not hesitate to accept the promotion.

Starting in 2017, I have been serving as the assistant section chief, managing two groups. Our team works at different locations, so I try not to limit our communication to the exchange of emails and telephone calls; I value seeing my team members outside of general business, by planning get-togethers over drinks and BBQ parties. I have never managed this many team members. I also aim at educating the next generation. That is why I get a feeling of satisfaction when my teams grow in numbers or when my members' jobs get highly evaluated.
Future Goals
My Goal is to Have Every Employee Realize Their Potential for Growth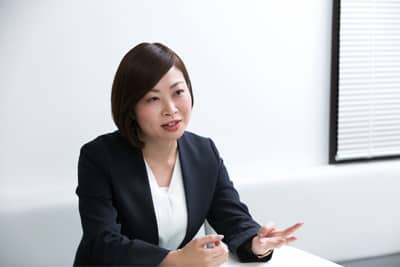 My goal is to take a position closely involved in management. Because this company particularly respects individual employees, I would like to use my ability to train personnel, devising measures for influencing employees' personalities and promoting their growth. Technology is important in system development. Soft skills, however, are indispensable because the accumulation of small communication leads to a better client experience. Leadership positions also require a sense of responsibility for numbers and goals. I would like to foster employees who have that kind of sense.

I would also like to increase the ratio of female executives to promote a climate that makes it easier for female engineers to state their opinions. To that end, I will be involved in new efforts and project launches even outside my regular job.
About ID
The Importance of Deriving ID's Own Added Value
There is an impression that many ID employees are very serious and work hard at the tasks at hand. There is a sense of trust that comes out of this impression that keeps our client relationships long-lasting. At the IT company that I worked at before ID, my jobs were second or third time contracted ones, which meant it was difficult to communicate my opinions. It was also frustrating because my discretion was limited. Many people had a limited view of the scope of their jobs. In that respect, ID allows us to directly present proposals to our clients, enabling us to identify the clients' business strategies. This allows me to clarify how I need to improve for my clients and what is required of my team, which expands the scope of my job.

In the system development world, delivering a high-quality product by the delivery deadline is something that is often taken for granted. Added value is needed to have our clients choose us in this competitive environment. I am grateful to hear that our client is happy to have requested us for the job and that they trust us. It`s exciting to brainstorm with my teams about the added value for our next strategy.
To Future ID Employees
Rest Assured that Many Senior Colleagues Have Your Back
Just as I was going through company interviews, the Japanese Diet was discussing an act for promoting women in the workplace. ID was also promoting this effort. I also heard that ID would be increasing the number of female managers and that its environment had big potential. This lead me to think I could assist in promoting this cause. Because I was employed in another industry outside the IT industry for two years, I was anxious about how I could catch up with the technological matters and changes during my time away. However, many senior colleagues have helped me with my questions when I directly tell them what I do not understand. ID is the kind of workplace that lets you work at ease even if you are transferring in the middle of your career.