By combining advanced technology with existing service solutions, we will provide more value-added service models that meet our customer needs.
RPA Business Reform Services
RPA
RPA (Robotic Process Automation) is a term expressing efforts to automate work by robots. It is the concept of a software type robot in personal computers that substitutes and automates desk work (mainly fixed form work) that had been done manually. Without having to repair the existing system, we will support work efficiencies by having the RPA tool repeat keyboard and mouse operations, and through automation.
Introducing RPA
In introducing RPA, it is important to determine which work functions would prove to be more effective if RPA is applied. The ID Group utilizes know-how that has been cultivated over many years in system administration and management works to support business reforms of customers. In addition to simple RPA introduction, we will also support sweeping business reform by combining it with BPR (Note 1) consulting such as business analysis.
RPA Business Reform Service Schedule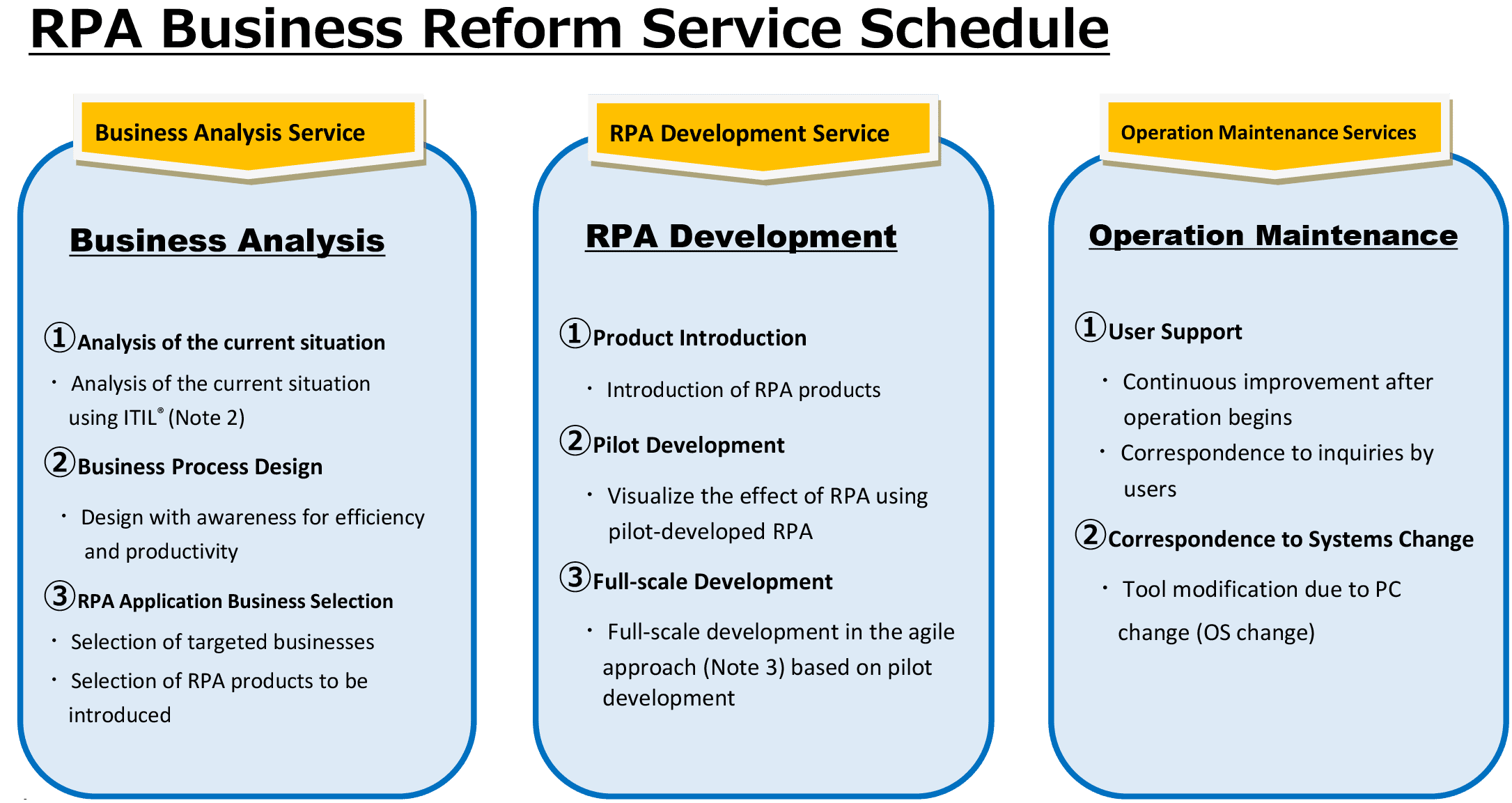 (Note 1) BPR (Business Process Re-Engineering) is reviewing the business structure from a comprehensive point of view and reconstructing it into what is more efficient.
(Note 2) ITIL® (IT Infrastructure Library) is a knowledge base that systematically summarizes the best practices in system operation.
(Note 3) Agile approach is a method in building a partial system speedily in a short period of time starting small so that it could respond sensitively to change, and thus increase perfection while making improvements.
① Business Analysis Services
◆Analysis of the Current Situation
An approach to clarify the current problems and their improvement methods and apply them as a common understanding for the organization.
Instead of simply analyzing the gaps, analyze issues by checking the business goals and IT goals.
Analyze using the correct approach with various frameworks and continuous improvement (CSI) models of ITIL®
Develop improvement methods and execution plans for high-priority issues and problems
◆Business process design
Perform business process and operational process designs in connection with business improvement, systems development, standardization, IT governance construction, ITIL introduction, etc.
Designed with awareness for efficiency/improvement in productivity
Designing "To Be" with the aim to achieve organizational results
Design with full consideration for the actual business situation
Based on actual results achieved by supporting the construction of standard models in a few dozen companies, we offer proper consideration as a professional in operation.
◆Selection of RPA Application
In addition to identifying the work content and conducting a review of the entire process, specifying areas that may be automated by RPA, RBA (Note 4), etc.
Reviewing not only simple automation, but also business processes such as reconfirming the necessity of work
Combining RPA and RBA products will also cover complicated operation tasks in systems operation and management work
Estimating the improvement effect of introducing RPA and supporting selection of business targeted for automation
Selecting the RPA product that is most suitable for the business of customers without getting too concerned about a specific vendor
(Note 4) RBA (Run Book Automation) is technology that automates the IT operations management process.
② RPA Development Service
◆Introduction of RPA and RBA Products
Establish and introduce products that are most suitable for the business of customers
Introduce RPA products selected by business analysis services
Not only product introduction but also license delivery of RPA products is possible.
In the case of introduction in large-scale constitution, we support introduction and construction of management servers.
◆Pilot Development
From within the businesses selected in the RPA-provided business selection process, conduct RPA development in businesses where application is easy
Select a business that is easy to apply and conduct pilot development
Visualize the effect of RPA using pilot-developed RPA
◆ Full-scale development
RPA development for all tasks selected in the RPA-provided business selection process
Perform a series of development tasks in the agile approach from requirement definition, design, development and testing
Documents such as business flow are created so that maintenance work can be performed even by non-developers
③ Operation and Maintenance Services
◆User Support
In-residence maintenance provides support for all work.
Even after the operation begins, we will incorporate users' request for change as necessary and make continuous improvements.
Correspond to various inquiries from users related to RPA
◆Correspondence to System Change
Maintenance personnel will respond even when tool modification is required due to changes of computers, etc.
Correction, testing, and release in the event that tool modification is required due to changes in the OS of computer, etc.
Updating various documents accompanying tool modification